How is the Westwood real estate market doing? Let's look at May 2019 compared with the same period in 2018.
Single family home sales were down over the same period in 2018 but remained the same for condos.
<
Inventory for single family homes was up 70% over 2018. Condo inventory was up 39% over the previous year.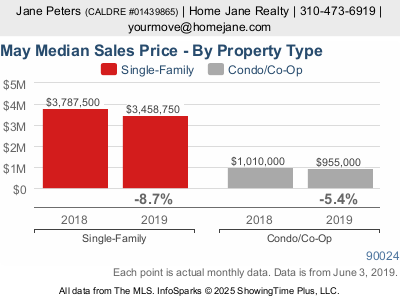 The median price for single family homes dropped 9% over 2018.  Condo prices dropped 5%.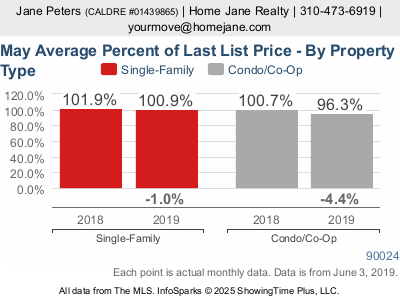 The average price of single family homes sold compared with the list price remained basically the same, selling a little over asking.  Condos dropped 4% from 100.7% of  asking last May to 96% this year.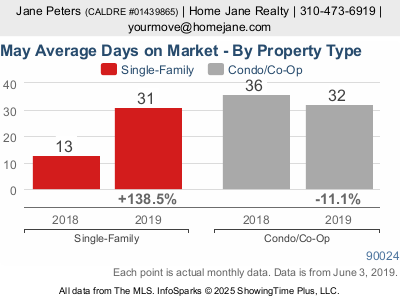 Single family homes stayed on the market significantly longer than last year. Condos sold a little faster.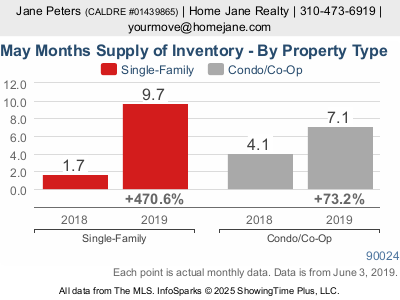 Less than 5 months = sellers' market | 5 to 7 months = stable market | Over 7 months = buyers' market
The inventory for single family homes and condos is heavily in a buyers' market compared to a strong sellers' market last May. The condo market is a little more balanced but moving towards a buyers' market.
The information provided by the MLS/CLAW and 1oK Research deemed reliable but not guaranteed
The Westwood real estate market is following the Los Angeles trend. There is more inventory, but prices are flattening and we will see if sales pick up in the coming months.
Other neighborhood market reports
Need Help? Have questions? Fill out the
CONTACT FORM
or call Jane at 310-351-9208